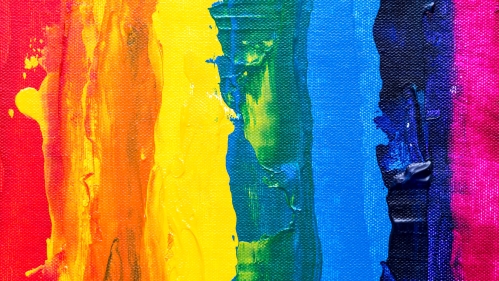 LGBTQ+ Student Support
Rutgers Health remains committed to maintaining an inclusive environment for all sexualities and gender identities and expressions.
A Welcoming Community
At Rutgers Health, we are dedicated to the advancement of LGBTQ+ health and well-being. This directory of faculty across our academic health center represents a listing of key volunteer mentors and advisors poised to offer support and guidance to LGBTQ+ students as they navigate the path from scholarship to an enriching career. Rutgers Health students are encouraged to reach out to these faculty mentors directly to connect.
Michael Plewinski (He/Him/His)

Ernest Mario School of Pharmacy

Sijia Yu (She/Her/Hers)

Ernest Mario School of Pharmacy

Preeti Bharaj (She/Her/Hers)

New Jersey Medical School

Jonathan Czeresnia (He/Him/His)

New Jersey Medical School

Michelle DallaPiazza (She/Her/Hers)

New Jersey Medical School

Erin Michele Feinstein (She/Her/Hers)

New Jersey Medical School

Diana Finkel (She/Her/Hers)

New Jersey Medical School

Joel Freundlich (He/Him/His)

New Jersey Medical School

Rebecca Goett (She/Her/Hers)

New Jersey Medical School

Jeremy Grachan (He/Him/His)

New Jersey Medical School

Dennis Grech (He/Him/His)

New Jersey Medical School

Eric Jarmon (He/Him/His)

New Jersey Medical School

Robert L. Johnson (He/Him/His)

New Jersey Medical School

Petros Levounis (He/Him/His)

New Jersey Medical School

Hong Li (He/Him/His)

New Jersey Medical School

Carlos Nunez (He/Him/His)

New Jersey Medical School

Lisa Pompeo (She/Her/Hers)

New Jersey Medical School

Jared P. Walsh (He/Him/His)

New Jersey Medical School

Sari Bentsianov (She/Her/Hers)

Robert Wood Johnson Medical School

David Cohen (He/Him/His)

Robert Wood Johnson Medical School

Aviva Cohn (She/Her/Hers)

Robert Wood Johnson Medical School

Nick DeNunzio (He/Him/His)

Robert Wood Johnson Medical School

Danielle Dick (She/Her/Hers)

Robert Wood Johnson Medical School

Firas Eladoumikdachi (He/Him/His)

Robert Wood Johnson Medical School

Brad Kamitaki (He/Him/His)

Robert Wood Johnson Medical School

Nell Maloney Patel (She/Her/Hers)

Robert Wood Johnson Medical School

Pat Rizzuto (He/Him/His)

Robert Wood Johnson Medical School

Robyn Schafer (She/Her/Hers)

Robert Wood Johnson Medical School

Jeremy C. Sinkin (He/Him/His)

Robert Wood Johnson Medical School

Keith Stowell (He/Him/His)

Robert Wood Johnson Medical School

Paul Weber (He/Him/His)

Robert Wood Johnson Medical School

Madhu Mohan (She/Her/Hers)

Rutgers School of Dental Medicine

Rosa Chaviano Moran (She/Her/Hers)

Rutgers School of Dental Medicine

Padma Mukherjee (She/Her/Hers)

Rutgers School of Dental Medicine

Herminio Perez (He/Him/His)

Rutgers School of Dental Medicine

Maxine Strickland (She/Her/Hers)

Rutgers School of Dental Medicine

Jose G. Centeno (He/Him/His)

School of Health Professions

Aaron Dallman (They/Them/Theirs)

School of Health Professions

Stephanie Hubbell (She/Her/Hers)

School of Health Professions

Nancy Mingelgreen (She/Her/Hers)

School of Health Professions

Antonina Mitrofanova (She/Her/Hers)

School of Health Professions

Zhaomeng Niu (she/Her/Hers)

School of Health Professions

Kelly Ann Pena (She/Her/Hers)

School of Health Professions

Joachim Sackey (He/Him/His)

School of Health Professions

David Kietrys (He/Him/His)

School of Health Professions

Anthony Zazzarino (He/Him/His)

School of Health Professions

Joseph Boney (He/Him/His)

Linda J. Hassler (She/Her/Hers)

Jeffrey Kwong (He/Him/His)

Karen Holly Muller (She/Her/Hers)

John A. Nelson (He/Him/His)

Annie Pajaro (She/Her/Hers)

Stephen Pilot (He/Him/His)

Raquel Reyes (She/Her/Hers)

Carlos Serrano (He/Him/His)

Robyn Schafer (She/Her/Hers)

Dawn Slowinski (She/Her/Hers)

Devon English (He/Him/His)

Mackey R. Friedman (He/Him/His)

Marybec Griffin (She/Her/Hers)

Perry N. Halkitis (He/Him/His)

Kristen D. Krause (She/Her/Hers)

Teri Lassiter (She/Her/Hers)

Caleb LoSchiavo (He/Him/His)

Henry Raymond (He/Him/His)

Derek Shendell (He/Him/His)

Vince Silenzio (He/Him/His)

Pamela Valera (She/Her/Hers)