Samantha Eng's call to pursue a career in medicine and help heal physical and emotional pain grew out of her experience in preschool accompanying her mother for medical treatment in her quest to have another child.
In the doctor's office, Eng observed many medical procedures, including injections, blood draws, and scans. "Instead of looking away during these procedures, I stared, fascinated. The staff were kind and explained what was happening with each test."
But there was something else about the experience that shaped the way Eng thinks about medicine.
The grueling treatment Eng's mother was receiving failed. And although the condition was not life-threatening, a positive outcome would have made an enormous difference in the quality of her life. Eng remembers her mother's sorrow when she ran out of medical options. She says, "I think becoming a doctor is my small way to help end someone's sadness."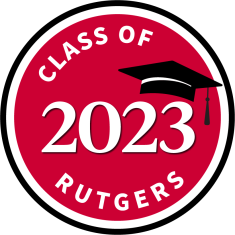 By age 7, she was dressing up as a doctor for career day and was certain this is what she wanted to do. Now, she is on her way to achieving her goal. In May, the B.A./M.D. student will earn her undergraduate degree from Rutgers' School of Environmental and Biological Sciences even as she completes her first year at Rutgers' Robert Wood Johnson Medical School (RWJMS).
Eng says coming up through the school system in Piscataway, N.J. – one of Rutgers' host communities – was key to realizing her ambition. "I met my guidance counselor, Kelly Chilakos, in eighth grade," says Eng. "She knew my dream was to become a doctor and helped me choose classes that proved I could handle the rigorous academics of college, including Advanced Placement and honors science and math courses."
By the time she graduated Piscataway High School, Eng had earned 14 college credits through the PHS Biomedical Career Pathways Program, a partnership with Rutgers' School of Health Professions. "Earning high grades in these difficult classes taught me determination and perseverance, conditioning me to fully function on little sleep and lots of caffeine, a skill that served me well in undergrad and now in med school," Eng says.
Also key, or so she thought, would be attending her dream Ivy League school. But after being accepted, a jolt of reality set in: the financial burden of earning an Ivy League degree. Following deep discussions with her parents, Eng chose Rutgers instead, the much more affordable school down the road where as a child she cheered on the Scarlet Knights and learned to swim and play piano, where she had already earned college credit, and where she would now be a student in the Honors College of Rutgers University–New Brunswick.
"Rutgers is home to me," says Eng, whose mother holds three Rutgers degrees. "And at Rutgers, you get a world-class education without the Ivy League price tag." Something else you get at Rutgers that you don't get at most Ivy League schools, is the possibility of completing your undergraduate and medical degrees in seven years instead of eight—a substantial cost savings. "Another reason I chose Rutgers was the B.A./M.D. program," says Eng. "I knew what I wanted, and the program was the quickest way to get there by counting the first year of medical school as the last year of undergrad."
Eng's commitment to academics intensified in the Honors College, with its "interesting and in-depth classes." Moreover, the Honors College opened doors to research, leadership, and community service opportunities. Eng has studied the DNA of the gut microbiome and had a paper accepted by the New Jersey Obstetrical and Gynecological Society, serves as executive board president of the RWJMS Asian Pacific American Medical Student Association, and has been a labor and delivery volunteer and hospice volunteer at two different medical facilities. Eng even volunteers at her old high school – running a college essay writing workshop and establishing a college test prep book drive to supply students in need with gently used AP, SAT, and ACT books.
For now, Eng says she is "leaning toward obstetrics and gynecology, but I still have time to decide."