Partho P. Sengupta, a Henry Rutgers Professor of Cardiology and chief of the Division of Cardiovascular Diseases and Hypertension at Rutgers Robert Wood Johnson Medical School, has been selected by the American College of Cardiology (ACC) as its 2023 Gifted Educator Award honoree.
The ACC award is given to a fellow of the nonprofit medical association who has demonstrated innovative, outstanding teaching characteristics and compassionate qualities and, because of these attributes, has made major contributions to the field of cardiovascular medicine at the local and/or regional level.
In addition to his medical school roles, Sengupta is chief of the Cardiovascular Service Line at Robert Wood Johnson University Hospital (RWJUH). Since joining the medical school and RWJUH in 2021, Sengupta has worked with the division and RWJUH cardiologists to expand and enhance educational, clinical and research opportunities for learners at all stages.
Under his leadership, the division expanded its Cardiac Fellowship Program, creating a space for its clinical presentation and meeting needs, and launched an Advanced Cardiac Imaging Fellowship Program as well as a mentored fellows' clinic to expand patient access to care within a learning environment for fellows.
Increasing cardiac fellowship opportunities statewide will become more critical in the near future, Sengupta said.
"Thirty percent of our cardiology workforce is aging and will retire, resulting in predictable workforce shortages," he said. "At the same time, there are a growing number of patients with cardiovascular disease because of the aging of the general population. One of the most important aspects of the mission of the cardiology division, therefore, is to 'incubate the future,' to create a learning environment where our trainees learn not only patient care, but innovation."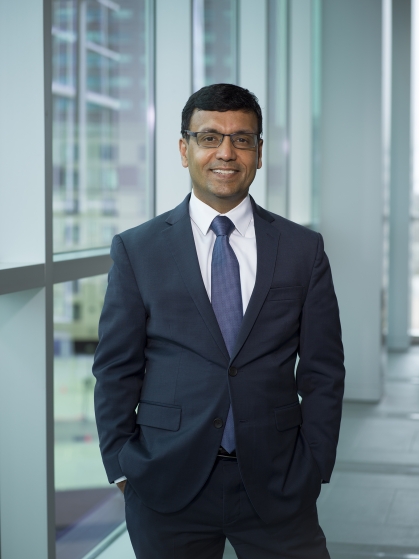 An avid adopter of technology, Sengupta was the driving force behind the creation of the Center for Innovation, a joint partnership between RWJUH and the medical school where physicians and trainees participate together in developing research and new approaches to patient care.
Because of the dynamic nature of cardiovascular disease, Sengupta advocates for the aggressive use of "augmented intelligence" to find new meaning, structures and patterns in diseases to develop an individualized prescription for treatment.
"What this journey creates for our trainees is a newer way to think about and understand diseases," he said.
Sengupta credited his own mentors with showing him how critical a mentor-mentee relationship is and how to be generous with knowledge and the discovery process.
"I really believe that one thing that grows by sharing is knowledge," he said. "The pursuit of knowledge is the biggest strength an institution can have. And the learners are so bright and engaged, you actually learn more as a mentor and educator, because they contribute to the environment."
Encouraging a sense of fun and enjoyment in the learning process is essential regardless of whether you're a student, fellow or long-time practitioner because it helps build vitality and resilience to tackle burnout, said Sengupta, who added his division developed retreats for its learners to specifically focus on resilience and wellness.
It also encouraged trainees to become involved in new research efforts and showcase their work more widely, engaging them in submitting research abstracts and doubling the number of podium presentations, moderated posters and case presentations by trainees at this year's ACC Annual Scientific Session, Sengupta said. Last year, one of the researchers was recognized as a finalist for a Young Investigator Award from the American Society of Echocardiography (ASE).
Sengupta previously was the Abnash C. Jain Chair of Cardiology, chief of the division of cardiology, director of cardiovascular imaging, and director of cardiovascular innovation at West Virginia University School of Medicine and the WVU Heart and Vascular Institute, and held academic positions at Mount Sinai School of Medicine, the University of California, Irvine, and the Mayo Clinic. Throughout that time, he helped initiate programs to transform multidisciplinary training of residents and fellows and received the ASE's 2020 Richard Popp Excellence in Teaching Award.
"Dr. Sengupta has made exceptional contributions to the field of cardiovascular medicine, helping to further the ACC's mission to transform cardiovascular care and improve heart health," said ACC President Edward T. A. Fry.
"Dr. Sengupta's enthusiasm for innovation and cultivating a culture of respect, civility, and inclusiveness provide the ideal environment for teaching the next generation of physicians and cardiovascular specialists," said Amy P. Murtha, dean of Rutgers Robert Wood Johnson Medical School. "We are proud of the opportunities the cardiology division continues to create for our learners under his leadership and congratulate him on this well-deserved honor."
"From my first meeting with Dr. Sengupta, it was clear that learning and teaching are at the core of all that he does," said Bill Arnold, president and chief executive officer of Robert Wood Johnson University Hospital. "As an avid technologist, young physicians and investigators immediately recognize and are drawn to the opportunity to innovate and be creative within his programs. We are glad to support these endeavors."
Sengupta will receive the Gifted Educator Award during the organization's Annual Scientific Session & Expo 2023 together with the World Congress of Cardiology, set for March 4-6 in New Orleans.