Rutgers Seeks Participants to Research Long COVID in Children and Young Adults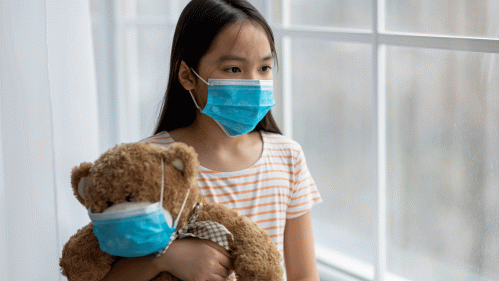 The university is heading a four-year National Institutes of Health study that will enroll 2,000 children and young adults to age 25
Rutgers will take the lead in a National Institutes of Health (NIH) study seeking to define long COVID – a term used to describe lingering COVID-19 symptoms – in children, including its evolution and how often it occurs.
The university is recruiting 150 participants and will lead a national network of 14 sites that will recruit an additional 2,000 participants. The total NIH national recruitment goal is 20,000 participants.
The study is part of a $30 million grant Rutgers Robert Wood Johnson Medical School received as part of the NIH-funded Researching COVID to Enhance Recovery (RECOVER) initiative to lead a national collaboration to study long-term and delayed impacts of COVID-19 in children.
In the study's first phase, participants will provide blood and saliva samples and complete an at-home questionnaire. Qualifying participants will continue to the second phase, which involves an in-depth evaluation that will include bloodwork, an electrocardiogram and lung-function testing at the Pediatric Clinical Research Center at Rutgers Robert Wood Johnson Medical School in New Brunswick. Some participants may be selected for even more in-depth study, including brain imaging, cognitive testing and echocardiograms. 
Children and adolescents are particularly susceptible to long-term COVID-19 symptoms, including brain fog, loss of stamina, pain, headaches, fatigue, anxiety, depression, fever, cough and sleep problems.
"We need to think about long COVID as the onset of a new chronic disease of childhood," said Lawrence Kleinman, the lead investigator for the Collaborative Long-term study of Outcomes of COVID-19 in Kids (CLOCK) consortium at Rutgers and a professor and vice chair for academic development in the Department of Pediatrics at Rutgers Robert Wood Johnson Medical School. "Impacts may be readily apparent and observable, latent in a way that emerges later or only apparent at times of emotional or physical stress."  
"Beyond that, we need to think of the direct effects of COVID-19 on the child's body, the impact of family members getting sick or dying on the child's life and the indirect impacts of the various experiences of the pandemic independent of individual infections," said Kleinman.  "We need to learn how to incorporate an appreciation of the life course – the journey from conception through adulthood – both in our understanding of the impacts of acute and long COVID and on how to develop intervention to mitigate deleterious effects on children and families."
For more information and to express interest in participating in the study, fill out the survey below: https://redcap.link/uph1ntu7