Whether in Newark or elsewhere in New Jersey, Rutgers Health is deepening its engagement services and programs for the communities it serves.
Eyes wide, the young uninsured man from Venezuela gazed deeply into Maria Vega-Garces' ophthalmoscope. The signs of damage from glaucoma — painless to the patient — were obvious to the student: degenerative changes to the optic nerve.
"Glaucoma is one of those pathologies that disproportionately affects underserved minority patients," said Vega-Garces, a fourth-year medical student at the Rutgers New Jersey Medical School in Newark. "If this man hadn't come to our community clinic, he may have lost his sight."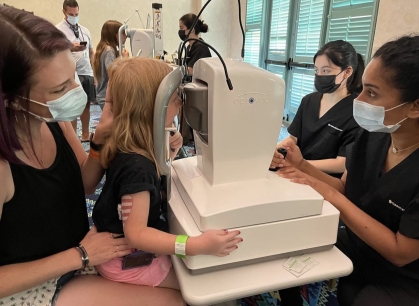 That Saturday afternoon clinic in 2021 is seared in Vega-Garces' memory. Held at a local church in West New York, N.J., hundreds of community members cued for hours to be seen by members of the Student Sight Savers, a student-run program that provides free vision care.
The program had a "huge" impact on her desire to become a doctor, Vega-Garces said.
"It's one of the reasons why, as I'm doing my rotations, I know the answers to a lot of questions," she said. "It's also helped me understand the actual needs of the community I want to serve."
Community engagement is a cornerstone of Rutgers Health. For years, Rutgers has worked to deliver quality health care to the people of New Jersey, particularly in underserved areas, and to provide care regardless of cultural or ethnic background or ability to pay.
This dedication has deepened during the past decade. Following the formation of Rutgers Health (formerly Rutgers Biomedical and Health Sciences) in 2013 and the merger of the University of Medicine and Dentistry of New Jersey, Rutgers has recommitted to educating humanistic doctors that can bridge the gap between research, care and community.
Today, dozens of Rutgers Health programs connect doctors, nurses, researchers and students with the communities and people they serve.
At New Jersey Medical School (NJMS) in Newark, community engagement has been strategically aligned with its goals, including a commitment to the health of the community, and the appreciation of social and cultural diversity. Students complete 20 hours of service through their participation in Community Engaged Service Learning (CESL), a required longitudinal course spanning the first two years of medical school, where they reflect on their interaction and participation in community activities. There are 35 active CESL projects, delivering everything from palliative care support and cancer prevention resources to HIV education and chronic disease management education.
"The idea behind Community Engaged Service Learning is that students are learning from the service that they're providing and that there's a thoughtful process of pre- and post-reflection," said Ana Natale-Pereira, associate dean of primary care, diversity and community engagement at NJMS and head of the Community Engaged Service Learning Resource Team.
"At the end of their service work, we want our students to understand the community's health care needs – not just from class lectures, but from patients themselves," Natale-Pereira said.
Student Sight Savers is one of the CESL initiatives. During the COVID-19 pandemic, when access to vision screening decreased, Sight Savers was a vital resource for Newark residents. Since then, student volunteers – with mentorship from Bernard Szirth, director of the Applied Vision Research Laboratory at NJMS – have worked with community organizations to address health issues such as high blood pressure, diabetes and cholesterol and the correlation to vision loss among Latinos.
Other CESL programs are equally impactful. The Student Family Health Care Center  — the nation's oldest student-run clinic — was instrumental in supporting families after COVID-19, especially the noninsured and new immigrants. Launched after the 1967 Newark riots to meet the needs of the medically underserved, the family health center offers free, quality care to the Newark community under the supervision of board-certified physicians.
Thaddaeus Diggs, Director of Community Engagement for RBHS, said that since the 2013 merger, nearly every Rutgers Health entity has introduced a community-focused initiative – from the School of Dentistry's oral health education program to the School of Public Health's Urban Agriculture Cooperative in Newark. "This growth in community engaged medicine – from research to clinical care – has been remarkable," Diggs said.
At the Rutgers Robert Wood Johnson Medical School's Promise Clinic, medical students provide care to Elijah's Promise Community Kitchen in New Brunswick.
At the School of Nursing's Center for Community Health Partnerships, students and faculty clinicians train promotoras — community health workers — to facilitate community-engaged research studies.
And at the Rutgers School of Health Professions' weekly Community Participatory Physical Therapy Clinic, community members flock for free consultations every Tuesday. Opened in 2011, the clinic provides physical therapy to about 100 community members annually.
"Many of our patients are undocumented and the working poor who are uninsured or underinsured," said Sue Paparella-Pitzel, the clinic's director. "They are comfortable here because there is no judgment, no payments, no questions about living arrangements." 
In recent years, Rutgers has made a concerted effort to open new clinics and programs that aim specifically to teach new professionals, such as the Speech-Language Pathology program, and to champion services to under-resourced communities, said Paparella-Pitzel. Interprofessional collaborations — such as ties between occupational and physical therapy, and speech and language pathology — provide patients with more extensive care options, she added. 
"Since the creation of RBHS we've had access to more resources and larger campus clinics," said Paparella-Pitzel. "The School of Health Professions has benefited enormously from these collaborations, and in turn, so have our patients."
The Rutgers School of Dental Medicine is another community contributor, offering oral health care to communities throughout New Jersey and beyond. The school runs clinics with care provided by dental students overseen by licensed faculty.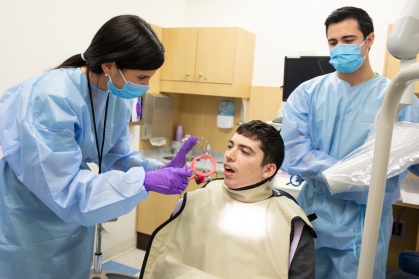 The school also provides specialty care for patients with special needs, such as those with Alzheimer's disease and Down syndrome. One of the few such facilities in the region, the Rutgers-led Delta Dental of NJ Special Care Center, opened in 2014 and draws more than 4,000 patients annually from New Jersey, Delaware, Pennsylvania and New York.
"What Rutgers did, following the merger, is to double-down on the importance of community engagement and continue to grow and evolve these programs for our students and the people they learn from," said Natale-Pereira.
Denise V. Rodgers, vice chancellor of interprofessional programs, said community engagement is about more than medical education. It's also an essential part of the clinical care pipeline. In the never-ending drive to translate laboratory discoveries into viable treatments for patients, partnerships at the community level are essential.
"It must be bench-to-bedside-to-community," she said. "That's the definition of translational medicine."
For Rutgers medical students, that pipeline often starts in reverse — as it did for Vega-Garces. She used her experience at the Student Sight Savers clinic in West New York to study how limited access to eye-care among Newark's Latino population was contributing to undiagnosed vision loss, including glaucoma.
"I was born in Sincelejo, Colombia, and when I was four, my family left with nothing but two suitcases," Vega-Garces said. "Watching my family struggle to communicate with health care providers, I dreamed of bridging the language gap by bringing diversity to the medical field."
---
RBHS 10th Anniversary
In 10 years, Rutgers Biomedical and Health Sciences (RBHS) has seen transformational achievements that have catalyzed us, changed Rutgers, and benefitted New Jersey and our valued partners and communities. Throughout this year, we're celebrating our impact and telling our story.